Get Ready for Mago:Talent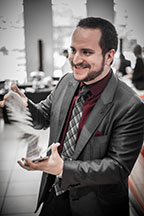 My Name is Michael Carducci. I'm a software-engineer turned full-time professional magician and speaker.
In 2013, after 15 years as a part-time pro, I was able to finally quit my day-job and pursue my dream of performing full-time. One of my proudest achievements of my life has been the opportunity to travel the world and live my dream. For me, the final missing piece was a tool to keep me organized, to keep all my leads top-of-the-mind, to allow me to cultivate and nurture relationships with my clients, a tool to streamline my business and allow me to focus on the things that I'm really passionate about. You have the opportunity to add this tool to your arsenal.
Expect 1000%-2000% ROI
Harness the unrivaled power that Mago gives you and your bottom line will thank you.
Be the first to respond to every enquiry from any device, wherever you are.
Turn last year's NO into this year's YES using automation to automatically reprospect.
Build trust and long-term relationships with Consistent, high-quality customer service
Never drop the ball again Mago keeps your organized, focused and won't let you forget
Mago is designed by a performer for all performers.

Mago:Talent Annual
1GB Cloud Storage
Unlimited emails
Advanced automation engine
30+ Sample templates
Real-time updates
Mago:Talent semi-annual
$39.95
/ mo paid semi-annually
1GB Cloud Storage
Unlimited emails
Advanced automation engine
30+ Sample templates
Real-time updates
Mago:Talent Monthly
1GB Cloud Storage
Unlimited emails
Advanced automation engine
30+ Sample templates
Real-time updates
Terms & Conditions
Mago:Talent Terms and Conditions
READ THE TERMS OF THIS AGREEMENT ("AGREEMENT") CAREFULLY BEFORE ACCESSING OR USING MAGO:TALENT SOFTWARE, WEBSITE OR SERVICES, ELECTRONICALLY OR OTHERWISE, AND INDICATE YOUR ACCEPTANCE OF THESE TERMS BY SELECTING THE "ACCEPT" (OR EQUIVALENT) BUTTON AT THE END OF THIS AGREEMENT. IF YOU DO NOT AGREE TO ALL OF THE TERMS, SELECT THE "DECLINE" (OR EQUIVALENT) BUTTON AT THE END OF THIS AGREEMENT.
YOU MAY NOT ACCESS THE SERVICES IF YOU ARE OUR DIRECT COMPETITOR, EXCEPT WITH OUR PRIOR WRITTEN CONSENT. IN ADDITION, YOU MAY NOT ACCESS THE SERVICES FOR PURPOSES OF MONITORING THEIR AVAILABILITY, PERFORMANCE OR FUNCTIONALITY, OR FOR ANY OTHER BENCHMARKING OR COMPETITIVE PURPOSES.
IF YOU ARE ENTERING INTO THIS AGREEMENT ON BEHALF OF A COMPANY OR OTHER LEGAL ENTITY, YOU REPRESENT THAT YOU HAVE THE AUTHORITY TO BIND SUCH ENTITY AND ITS AFFILIATES TO THESE TERMS AND CONDITIONS, IN WHICH CASE THE TERMS "YOU" OR "YOUR" SHALL REFER TO SUCH ENTITY AND ITS AFFILIATES. IF YOU DO NOT HAVE SUCH AUTHORITY, OR IF YOU DO NOT AGREE WITH THESE TERMS AND CONDITIONS, YOU MUST NOT ACCEPT THIS AGREEMENT AND MAY NOT USE THE SERVICES.
THIS AGREEMENT RESTRICTS YOUR LEGAL RIGHTS, LIMITS OUR LIABILITY, AND CONTAINS WAIVERS AND OTHER TERMS FAVORABLE TO US WHICH SUBSTATINALLY MODIFY YOUR LEGAL RIGHTS.
SUBSCRIPTION, SOFTWARE LICENSING AND DATA HOSTING AGREEMENT
THIS SUBSCRIPTION, SOFTWARE LICENSING AND DATA HOSTING AGREEMENT (the "Agreement") is made between CloudMagic CRM, LLC, a Colorado LLC, dba Mago:Tech (hereinafter "Mago:Tech") and Client/User/Subscriber (hereinafter "Client"), together the "Parties" and each individually a "Party".
WHEREAS; Mago:Tech is in the business of offering subscriptions to its website, licensing certain Software, providing online access to and use of certain applications and performing certain customer relationship management data storage services; and
WHEREAS; Client desires to subscribe to, access and use under license certain of Mago:Tech's online applications, Software and customer relationship management services;
NOW, THEREFORE, in consideration of the recitals above and the mutual covenants, terms and promises hereinafter set forth, the sufficiency of which is hereby acknowledged, the Parties agree as follows:
Definitions.
"Software" means any downloadable software from the website and any software we provide that is used in conjunction with the website and Services.
"Permitted Use" means the licensed Software use(s) authorized solely as described in and limited by this Agreement. "Client" and "Client's" means the individual or legal entity named above in this Agreement. Except for any client interface Software or offline components we offer now or in the future, permitted use does not include Client's ability to download, possess, view or store any code relating to any Software or applications. Rather, permitted use shall be limited to Client's access to and use of Our Software and applications residing on our website.
"Affiliate" means any entity which directly or indirectly controls, is controlled by, or is under common control with the subject entity. "Control," for purposes of this definition, means direct or indirect ownership or control of more than 50% of the voting interests of the subject entity.
"Malicious Code" means viruses, worms, time bombs, Trojan horses and other harmful or malicious code, files, scripts, agents or programs.
"Services" means the online, Web-based applications and platform provided by Us via

https://mago.co

and/or other designated websites, including associated offline components, if any, but excluding Third Party Applications.
"Purchased Services" means Services that You or Your Affiliates purchase, as distinguished from those provided pursuant to a 6 week free trial.
"Free Services" means Services that we provide free of charge during a 6 week trial period.
"Third-Party Applications" means online, Web-based applications and offline software products that are provided by third parties, interoperate with the Services, and are identified as third-party applications.
"Users" means individuals who are authorized by You to use the Services, for whom subscriptions to a Service have been purchased, and who have been supplied user identifications and passwords by You (or by Us at Your request). Users may include but are not limited to Your employees, consultants, contractors and agents; or third parties with which You transact business.
"We," "Us" or "Our" means the Mago:Tech company.
"You" or "Your" means the company or other legal entity for which you are accepting this Agreement and Affiliates of that company or entity.
"Your Data" means all electronic data or information submitted by You in conjunction with the Services.
Purchased Services. Upon receipt of your payment, we shall make the Purchased Services available to You pursuant to this Agreement. You agree that Your purchases hereunder are neither contingent on the delivery of any future functionality or features nor dependent on any oral or written public comments made by Us regarding future functionality or features.
Free Services. We reserve the right to terminate the offer, availability or providing of Free Services at any time, without notice and without limitation.
Grant of License. Mago:Tech grants Client a nonexclusive, nontransferable limited license to access and use the Software for its Permitted Use for the license/subscription term.
Term of Agreement. This Agreement commences on the date You accept it and continues until all User licenses/subscriptions granted in accordance with this Agreement have expired or been terminated. If You elect to use the Services for a 6 week free trial period and do not purchase a license/subscription before the end of that period, this Agreement will terminate at the end of the 6 week free trial period.
Term of Licenses/Subscriptions. User licenses/subscriptions purchased by You commence on the date payment is received and continue, unless earlier terminated by us as authorized in this Agreement, for the license/subscription term specified therein. Except as otherwise specified, all User license/subscriptions shall automatically renew for additional periods equal to the expiring license/subscription term or one year (whichever is shorter), unless either Party gives the other written notice of non-renewal at least 30 days before the end of the relevant license/subscription term. The pricing during any such renewal term shall be the same as that during the prior term unless We have given You written notice of a pricing increase at least 30 days before the end of such prior term, in which case the pricing increase shall be effective upon renewal and thereafter. Any such pricing increase shall not exceed 10% over the pricing for the relevant Services in the immediately prior license/subscription term, unless the pricing in such prior term was designated as promotional or one-time, but such price may include an inflation multiplier based upon the applicable Consumer Price Index.
Fees and Costs.

You shall pay all fees specified applicable to Your term of Service as set forth herein on the Service Fee Schedule. Except as otherwise specified herein, (i) fees are quoted and payable in United States dollars, (ii) fees are based on Services purchased and not actual usage, (iii) payment obligations are non-cancelable and fees paid are non-refundable, and (iv) the number of User subscriptions purchased cannot be decreased during the relevant subscription term stated. User subscription fees are based on monthly, six months or yearly periods that begin on the subscription start date and each corresponding anniversary thereof; therefore, fees for User subscriptions added in the middle of a monthly period will be charged for that full monthly period and the monthly periods remaining in the subscription term.

Our Responsibilities. We shall: (i) use commercially reasonable efforts to make the Purchased Services available 24 hours a day, 7 days a week, except for: (a) planned downtime (of which We shall give at least 8 hours notice via the Purchased Services and which We shall schedule to the extent practicable during the weekend hours from 6:00 p.m. Pacific time Friday to 3:00 a.m. Pacific time Monday), or (b) any unavailability caused by circumstances beyond Our reasonable control, including without limitation, acts of God, acts of government, flood, fire, earthquakes, civil unrest, acts of terror, strikes or other labor problems, or Internet service provider failures or delays, and (ii) provide the Purchased Services only in accordance with applicable laws and government regulations.
Your Responsibilities. You shall (i) be responsible for Users' compliance with this Agreement, (ii) be solely responsible for the accuracy, quality, integrity and legality of Your Data and of the means by which You acquired Your Data, (iii) use commercially reasonable efforts to prevent unauthorized access to or use of the Services, and notify Us promptly of any such unauthorized access or use, and (iv) use the Services only in accordance with applicable laws and government regulations.
Your Warranties. You hereby warrant that: (i) You have the authority to execute this Agreement on behalf of the company or other legal entity and Affiliates of that company or entity accepting the Agreement, (ii) You are over the age of 18 years, (iii) You and such company or other legal entity are engaged in a lawfully operated business, (iv) You, Your business and all of its agents are in possession of all legally required licenses, certifications, registrations, credentials and bonding and are otherwise properly qualified to operate such business, (v) You, Your business and all of its agents will remain compliant with all laws, statutes, rules, ordinances and regulations pertaining to such business during the term of the Agreement, and (vi) You, Your business and all of its agents will not use the Services, Software or website for any unlawful, tortious or improper purpose.
Certain Use Restrictions. Notwithstanding anything to the contrary in this Agreement, or any Permitted Use description therein, Client shall not directly or indirectly:
Modify, copy, duplicate, reproduce, license , sublicense, or create derivative works from, the Software or the Services;

Resell, transfer, or convey any right in or to the Software or the Services;

Permit the Software or the Services to be accessed by the general public;

Permit the Software or the Services to be accessed by persons who are neither employees nor independent contract laborers of Client's entity, except to the extent such access is required by third-party applications that interoperate with the Software or Services;

Use the Software or Services to store or transmit infringing, libelous, indecent or otherwise unlawful or tortious material, to store or transmit material in violation of third-party privacy rights;

Use the Software or Services

to generate unsolicited e-mail, send unsolicited e-mail messages, send unsolicited bulk e-mail or send any e-mail classified as "SPAM";

Use the Software or Services to store or transmit Malicious Code;

Interfere with or disrupt the integrity or performance of the Software or Services or third-party data contained therein; or

Attempt to gain unauthorized access to the Software or Services or their related systems or networks.
Certain Other Restrictions. (a) Any copies of Software provided to Client under this Agreement are licensed, not sold, to Client by Mago:Tech. Mago:Tech reserves all rights not expressly granted. (b) Client may copy offline components and user interfaces, but otherwise may not copy, modify, or distribute Software. However if the Mago:Tech documentation accompanying Software lists specific portions of Software, such as header files, class libraries, reference source code, and/or redistributable files, that may be handled differently, Client may do so only as provided in the Mago:Tech documentation. (c) Client may not rent, lease, lend or encumber Software. (d) Unless enforcement is prohibited by applicable law, Client may not decompile, or reverse engineer Software. (e) The terms and conditions of this Agreement will apply to any Software updates, provided to Client at Mago:Tech's discretion, that replace and/ or supplement the original Software, unless such update contains a separate license, or unless Mago:Tech elects to charge for updates. Client understands updates may not be backward-compatible or cross-compatible with prior versions. (f) Client may not publish or provide the results of any benchmark or comparison tests run on Software to any third party without the prior written consent of Mago:Tech. (g) Software is confidential and copyrighted. (h) Unless otherwise specified, if Software is delivered with embedded or bundled Software that enables functionality of Software, Client may not use such Software on a stand-alone basis or use any portion of such Software to interoperate with any program(s) other than Software. (i) Software may contain programs that perform automated collection of system data and/or automated Software updating services. System data collected through such programs may be used by Mago:Tech, its subcontractors, and its service delivery partners for the purpose of providing Client with remote system services and/or improving Mago:Tech's Software and systems. (j) No right, title or interest in or to any trademark, service mark, logo or trade name of Mago:Tech or its licensors is granted under this Agreement.
Acquisition of Third-Party Products and Services. We may offer access to third-party products or services. Such third-party products or services may be offered for sale or provided gratuitously from the third-party. Any acquisition by You of such third-party products or services, including but not limited to third-party applications and implementation, customization and other consulting services, and any exchange of data between You and any third-party provider, is at Your own risk, and is solely between You and the applicable third-party provider. We do not warrant or support third-party products or services, whether or not they are designated by Us as "certified" or otherwise. No purchase of third-party products or services is required to use the Services.
Third-Party Applications and Your Data. If You install or enable Third-Party Applications for use with Services, You acknowledge that We may allow providers of those Third-Party Applications to access Your Data as required for the interoperation of such Third-Party Applications with the Services. We shall not be responsible for any disclosure, modification or deletion of Your Data resulting from any such access by Third-Party Application providers. The Services shall allow You to restrict such access by restricting Users from installing or enabling such Third-Party Applications for use with the Services.
Our Use of Third Party Services. We may use third party products and services to provide Services to You under this Agreement. By accepting this Agreement, You agree to be bound by all such third party terms, rules, conditions and acceptable use policies relating to all of such products and services, if any, including without limitation those relating to email use found at http://www.smtp.com/acceptable-use-policy.
Open Source and Third Party Code. Software may contain open source or third-party code obtained free or under license. Accordingly, portions of Software may be provided with notices and open source licenses from such open source communities and third parties. Any such portions of code in the Software are fully subject to the disclaimer of warranty and limitation of liability provisions in this Agreement. Notwithstanding anything to the contrary in this Agreement, nothing in this Agreement shall or is intended to impair or violate the terms and provisions of the GNU general public license or any other public licenses associated with any freeware or other freely distributable code relating to our Software or Services.

The GNU general public license is available for viewing at

http://www.gnu.org/licenses/gpl-3.0-standalone.html.
Termination. Client's rights under this Agreement will terminate immediately without notice from Mago:Tech if Client breaches this Agreement, or takes any action in anticipatory breach of this Agreement or in derogation of Mago:Tech's and/or its licensors' rights relating to the Software. Mago:Tech may terminate this Agreement should any Services or Software become, or in Mago:Tech's reasonable opinion appear likely to become, the subject of a claim of intellectual property infringement or trade secret misappropriation. Upon termination, Client will cease use of, and destroy, Software and confirm compliance in writing to Mago:Tech. In the event of termination by Mago:Tech, Client shall not be entitled to any refund of any amount paid to Mago:Tech. Mago:Tech may effectuate termination for any permitted reason by eliminating Client's access to any site, data, hosted information or other services, data or information over which Mago:Tech exercises any control. Client understands the risks inherent in terminating such access and agrees to waive any and all claims against Mago:Tech relating directly or indirectly to sudden termination and/or concomitant loss of access to data or hosted information stored by or through Mago:Tech.
Return of Your Data. Upon request by You made within 30 days after the effective date of termination of a Purchased Services subscription, We will make available to You for download a file of Your Data. After such 30-day period, We shall have no obligation to maintain or provide any of Your Data and shall thereafter, unless legally prohibited, delete all of Your Data in Our systems or otherwise in Our possession or under Our control.
Disclaimer of Warranty. MAGO:TECH DISCLAIMS ANY AND ALL EXPRESS OR IMPLIED CONDITIONS, REPRESENTATIONS AND WARRANTIES, INCLUDING WITHOUT LIMIT ANY IMPLIED WARRANTY OF MERCHANTABILITY, FITNESS FOR A PARTICULAR PURPOSE, FREEDOM FROM COMPUTER VIRUS OR NON-INFRINGEMENT, WARRANTY ARISING BY USAGE OR TRADE, COURSE OF DEALING, OR COURSE OF PERFORMANCE, RELATING DIRECTLY OR INDIRECTLY TO THE SERVICES, WEBSITE, SOFTWARE, APPLICATIONS AND OTHER COMPONENTS, INCLUDING WITHOUT LIMITATION ANY SAMPLE TEMPLATES, CONTRACTS OR OTHER DOCUMENTS DOWNLOADABLE FROM THE WEBSITE FOR CLIENTS' USE, EXCEPT TO THE EXTENT THAT THESE DISCLAIMERS ARE HELD TO BE LEGALLY INVALID. CLIENT AGREES TO ACCEPT AND USE THE SYSTEM, SOFTWARE, SERVICES, APPLICATIONS, PLATFORMS, STORAGE, RETRIEVAL SERVICES, ACCESS TO MAGO:TECH'S WEBSITES, PROGRAMS OR CODE, AND ANY OTHER THING OF VALUE HEREUNDER, WHETHER OR NOT SUCH ACCEPTANCE AND USE OCCURS ON OUR WEBSITE, OUTSIDE OF OUR WEBSITE OR A COMBINATION THEREOF, ON AN "AS-IS" BASIS WITH ALL FAULTS. NO REPRESENTATIVE OF MAGO:TECH IS OR HAS BEEN AUTHORIZED TO GIVE OR MAKE ANY REPRESENTATION OR WARRANTY IN CONJUNCTION WITH THIS AGREEMENT IN ANY WAY, AND CLIENT AFFIRMS THAT CLIENT HAS RELIED UPON NO SUCH REPRESENTATION OR PUTATIVE WARRANTY. IN ADDITION, MAGO:TECH DOES NOT REPRESENT OR WARRANT THAT THE INFORMATION ACCESSIBLE VIA THIS SITE IS ACCURATE, COMPLETE OR CURRENT. ADDITIONALLY, Mago:Tech DISCLAIMS ANY AND ALL EXPRESS OR IMPLIED WARRANTIES RELATING TO THE EFFECTS WHICH THE USE OF THE WEBSITE, SERVICES, SOFTWARE, PLATFORM, AND APPLICATIONS MAY HAVE ON YOUR SALES, PROFITABILITY OR YOUR BUSINESS' IMPROVEMENT, SUCCESS OR FAILURE.
Disclaimer of Warranty of Sample Legal Documents. Services purchased by You may include the ability to download certain templates, sample agreements and sample contracts (hereinafter referred to as "Sample Documents") for Your use with third parties. THE INFORMATION AND MATERIALS CONTAINED IN THE SAMPLE DOCUMENTS, INCLUDING, WITHOUT LIMITATION, TEXT, GRAPHICS AND LINKS, IF ANY, ARE PROVIDED ON AN "AS IS" BASIS WITH NO WARRANTY. TO THE MAXIMUM EXTENT PERMITTED BY LAW, AND WITHOUT LIMITING THE GENERALITY OF ANY OTHER WARRANTY DISCLAIMERS IN THIS AGREEMENT, Mago:Tech DISCLAIMS ALL REPRESENTATIONS AND WARRANTIES, EXPRESS OR IMPLIED, WITH RESPECT TO SUCH INFORMATION AND MATERIALS, INCLUDING BUT NOT LIMITED TO WARRANTIES OF MERCHANTABILITY, FITNESS FOR A PARTICULAR PURPOSE, TITLE, NONINFRINGEMENT, FREEDOM FROM COMPUTER VIRUS, AND IMPLIED WARRANTIES ARISING FROM COURSE OF DEALING OR COURSE OF PERFORMANCE. IN ADDITION, MAGO:TECH DOES NOT REPRESENT OR WARRANT THAT THE INFORMATION ACCESSIBLE VIA THE SAMPLE DOCUMENTS IS ACCURATE, COMPLETE OR CURRENT. YOU AGREE TO SEEK INDEPENDENT COUNSEL REGARDING THE PROPRIETY OF USING SUCH SAMPLE DOCUMENTS, AND AGREE THAT NO SAMPLE OR TEMPLATE AGREEMENT CAN ADEQUATELY SUIT OR PROTECT ANY BUSINESS WITHOUT FIRST BEING REVIEWED AND MODIFIED BY YOUR OWN ATTORNEY, AND YOU AGREE TO HAVE SUCH SAMPLE DOCUMENTS REVIEWED AND MODIFIED BY YOUR OWN ATTORNEY BEFORE USING IN COMMERCE.
Limitation of Liability. LIMITATION OF DAMAGES.

NOTWITHSTANDING ANYTHING TO THE CONTRARY IN THIS AGREEMENT, IF CLIENT, OR ANYONE WHO MAY CLAIM THROUGH CLIENT, BRINGS ANY ACTION CONCERNING THIS AGREEMENT AT LAW OR EQUITY AGAINST MAGO:TECH, ITS EMPLOYEES, OWNERS, ATTORNEYS, SUCCESSORS, AFFILIATES, AGENTS, OR ASSIGNS, NO SUCH CAUSE OF ACTION SHALL INCLUDE A CLAIM, NOR MAY RECOVERY BE HAD, FOR ANY NEGLIGENCE (EXCEPTING GROSS NEGLIGENCE), OR ANY PUNITIVE, INDIRECT, SPECIAL, INCIDENTAL OR CONSEQUENTIAL DAMAGES, HOWEVER CAUSED, INCLUDING BUT NOT LIMITED TO, DAMAGES TO COMPUTERS, DATA, OR OTHER PROPERTY, FOR LOSS OF USE, LOSS OF TIME, LOSS OF PROFITS OR INCOME, BUSINESS FAILURE, INABILITY TO USE SOFTWARE OR ACCESS MAGO:TECH'S WEBSITE AND WEB RELATED DATABASES OR RESOURCES, BY CLIENT, CLIENT'S CUSTOMERS, OR ANY THIRD PARTY, EVEN IF MAGO:TECH, ITS EMPLOYEES, OWNERS, SUCCESSORS AGENTS, OR ASSIGNS ARE ADVISED OF THE POSSIBILITY OF SUCH DAMAGES.
NOTWITHSTANDING ANYTHING TO THE CONTRARY IN THIS AGREEMENT, MAGO:TECH'S, AND ITS EMPLOYEES', OWNERS', SUCCESSORS', AFFILIATES', AGENTS', ATTORNEYS' AND ASSIGNS', TOTAL LIABILITY FOR DAMAGES ARISING IN CONNECTION WITH THIS AGREEMENT SHALL IN NO EVENT EXCEED IN AGGREGAGE THE TOTAL AMOUNTS THEN PAID BY CLIENT UNDER THIS AGREEMENT DURING THE 12 MONTH PERIOD PROCEEDING THE INCIDENT, OR $1,000, WHICHEVER IS LESS. NOTHING IN THIS SECTION SHALL OPERATE TO LIMIT THE AMOUNT OR THEORY OF DAMAGES WHICH ARE AVAILABLE TO MAGO:TECH IN CONNECTION WITH THIS AGREEMENT OR ANY CLAIM ARISING THEREFROM, INCLUDING MAGO:TECH'S POSSIBLE COUNTERCLAIMS IN SUITS CONCERNING THIS AGREEMENT. The foregoing limitations will apply even if the above stated disclaimers fail of their essential purpose. Some states do not allow the exclusion of incidental or consequential damages, so some of the terms above may not be applicable to Client.
Limitation of Actions. No claim or action directly or indirectly concerning, related to, or arising out of this Agreement or any breach of or default under this Agreement, may be commenced by Client more than six (6) months after the occurrence of any such breach or default.
Export and Anti-Terrorist Regulations. Each Party shall comply with the export laws and regulations of the United States and other applicable jurisdictions in providing and using the Services. Without limiting the foregoing, (i) each Party represents that it is not named on any U.S. government list of persons or entities prohibited from receiving exports, and (ii) You shall not permit Users to access or use Services in violation of any U.S. export embargo, prohibition or restriction. All Software, documents, Services, technical data, and any other materials delivered under this Agreement are subject to U.S. laws including without limit financial rules and regulations, export control laws and laws relating to terrorism and money laundering, and may be subject to such laws and regulations in other countries. Client agrees to comply strictly with these laws and regulations.
Virtual Copyright. Client agrees and stipulates, waiving any and all rights to claim to the contrary, that all of Mago:Tech's code, Software, applications, writings, instructions and other printed or online material, in which Mago:Tech fails, or could conceivably fail, to have a valid and/or defensible copyright, shall be construed for the purposes of this Agreement as if fully subject to Mago:Tech's duly filed, registered, and effective Federal copyright, and shall be treated for all intents and purposes as Mago:Tech's copyrighted materials notwithstanding any evidence or argument to the contrary.
Confidential Information. Each Party to this Agreement (each, a ''Recipient'') will protect and keep confidential all non-public information (''Confidential Information'') disclosed by the other Party (each, a ''Discloser''), whether or not it is marked or identified as ''Confidential Information'' by the Discloser, and will not, except for the purposes of performing the Services to be provided hereunder, use or disclose any such Confidential Information. Confidential Information will include, without limitation, computer programs, code, algorithms, know-how, methodology, trade secrets, formulas, processes, ideas, inventions (whether patentable or not), schematics and other technical, business, pricing and fee schedules, product development plans, customer lists, client data, confidential customer information, information regarding distribution channels, forecasts, and strategies. Upon termination or expiration of this Agreement, at Discloser's request Recipient will return to Discloser all written materials that contain any Confidential Information. The obligations of confidentiality will not apply to any information which: (i) was previously known to Recipient; (ii) is or becomes publicly available, through no fault of Recipient; (iii) is disclosed to Recipient by a third party having no obligation of confidentiality to Discloser; (iv) is independently developed by Recipient; or (v) is required to be disclosed as a matter of law. Client acknowledges that Mago:Tech's Confidential Information will include all Mago:Tech Software, code, website content, sales materials, or other materials used by Mago:Tech, or supplied by Mago:Tech to Client, in connection with this Agreement.
Ownership and License of Mago:Tech Materials.
In connection with the provision of licenses/subscriptions hereunder, Mago:Tech may provide certain materials and information proprietary to Mago:Tech and provided or used by Mago:Tech, including, but not limited to, algorithms, methods, forms, graphics, music, photos, film clips, Software in code or object form, and other content provided by Mago:Tech (collectively, ''Mago:Tech Materials''). Subject to the license granted in Section 4, Client acknowledges that all right, title and interest in and to all Mago:Tech Materials is and remains the exclusive property of Mago:Tech or its suppliers.

In connection with the provision of the licenses and Services hereunder, Mago:Tech may provide certain Software to Client. Subject to the license granted herein, Client acknowledges that all right, title and interest in and to all Mago:Tech Software is and remains the exclusive property of Mago:Tech or its suppliers.

Notwithstanding any rights that Mago:Tech may grant to Client, Client agrees that Mago:Tech retains the right to re-use, distribute and license to any of its current and future customers any of its Mago:Tech Materials and Mago:Tech Software, at any time and without limitation, whether or not used by Mago:Tech in the performance of Services.

Client will restrict access to Mago:Tech Materials and Mago:Tech Software strictly to such of its personnel to whom access is reasonably necessary to permit the use of the Services by Client. Client will not and will not permit any person, including any of Client's personnel, to copy, reverse engineer, modify, improve and/or create derivative works, retrieve or read all or any portion of the source code of Mago:Tech Materials and Mago:Tech Software.
Captive Hosting/Impaired Migration. CLIENT UNDERSTANDS AND AGREES THAT SIGNIFICANT AMOUNTS OF HOSTED CLIENT DATA, INCLUDING WITHOUT LIMIT CLIENT'S CUSTOMERS' RECORDS AND CONFIDENTIAL INFORMATION, MAY NOT BE ACCESSIBLE, MAY NOT BE TRANSFERRABLE, OR MAY NOT BE RETRIEVABLE IN USEFUL FORM, TO CLIENT OR SUBSTITUTE SERVICE PROVIDER IN THE EVENT OF TERMINATION OF THIS AGREEMENT OR IN THE EVENT CLIENT IS WITHOUT ACCESS TO Mago:Tech'S SERVICES FOR ANY REASON. HENCE, CLIENT'S ABILITY TO DISCONTINUE SERVICES WITH Mago:Tech OR MIGRATE SERVICES TO ALTERNATIVE SERVICE PROVIDERS MAY BE IMPAIRED.

NOTE THAT MIGRATION IS DIS-INCENTIVIZED BY THE SITE DESIGN, APPLICATIONS AND DATA HOSTING ARRANGEMENT.
Deemed Abandonment. In the event that the term of any Services expires, or this Agreement is terminated, and any Client data is held thereafter by Mago:Tech, such will be deemed abandoned and subject to permanent destruction by Mago:Tech after the elapse of thirty days from the date of such termination or expiry, without notice to Client.
Indemnification by Client. Client will indemnify, defend with counsel acceptable to Mago:Tech, protect and hold Mago:Tech and its officers, directors, employees, agents and affiliates harmless, from and against any and all third party Claims caused by or relating directly or indirectly to Client's use of Services, Software, conduct of its business or Client's breach of this Agreement. Mago:Tech will give Client prompt notice of each Claim and reasonable cooperation in connection with the defense of each Claim. Sole control of defense and/or settlement of such Claims, where such settlement involves solely the payment of money by Client, will reside with Client. Client expressly assumes the risk that third parties may initiate legal proceedings against Mago:Tech relating to Mago:Tech's Services hereunder for Client, and shall indemnify, defend, and hold Mago:Tech harmless for any such claims, whether litigated or not. In the event Mago:Tech is legally required to respond to any demand, motion, subpoena, interrogatory, request for production or other relating to Clients' any dispute with any third party, Client agrees to pay any and all of Mago:Tech's actual costs and expenses relating to such, including without limit Mago:Tech's actual attorneys' fees and costs.
Non-Solicitation. Client agrees that Client will not directly or indirectly, individually, or together with, or through any other person, firm, corporation, or entity: (i) during and for two (2) years after the Term of this Agreement, in any manner, approach, counsel, or attempt to induce any person who is then in the employ or an independent contractor of Mago:Tech, to leave Mago:Tech's employ or engagement, or employ, engage or attempt to employ or engage any such person. Client agrees that for each individual that it hires in violation of this Section, Client will pay Mago:Tech liquidated damages in the amount of $250,000. The Parties hereto acknowledge that this provision is a 'but-for' prerequisite to entering into this Agreement, without which no Agreement would be possible, and that the amounts described in this Section are payable as non-exclusive liquidated damages, not as a penalty, determined by the Parties for convenience and clarity according to their reasonable estimation of future damages. This amount shall in no way preclude Mago:Tech from bringing any claims against Client for any additional actual or consequential damages Mago:Tech may have relating to breach of this section.
Down Time Credit. During the term of this Agreement, in the event the Client's Services goes off-line or are inaccessible for more than 24 hours in a row, Client shall be entitled to a credit against the monthly charges. The credit shall be a pro rata credit based on the fraction of Downtime compared to non-Downtime per month.
Further Steps. The Parties agree each to take any further steps necessary to achieve the purpose of this Agreement and all of its paragraphs and terms.
Modifications/Effect of Waiver. No waiver or modification of this Agreement, in whole or in part, will be valid unless in writing and duly executed by each of the Parties. Any waiver of any term, condition or provision of this Agreement will not constitute a waiver of any other term, condition or provision hereof, nor will a waiver of any breach of any term, condition or provision constitute a waiver of any subsequent or succeeding breach.
Severability/Enforceability. In the event that any paragraph or provision of this Agreement is held to be illegal, invalid or unenforceable by any court of competent jurisdiction, such holding will not affect the validity or enforceability of the remaining paragraphs or provisions. To the extent that any paragraph or provision is rendered unenforceable because it is overly broad or unduly narrow, that paragraph or provision shall be limited or expanded to the extent required by applicable law in order to become enforceable, and shall be construed as having originally been so drafted.
Dispute Resolution - Attorney's Fees.

Client agrees that prior to litigating any dispute arising out of or relating to this Agreement, Client will submit such dispute to mutually agreeable non-binding mediation and attempt to resolve the dispute in good faith. In the event mediation fails to resolve the dispute, the dispute shall be finally resolved by binding arbitration in accordance with the Rules of the American Arbitration Association (AAA) by three independent and impartial arbitrators, of whom each party shall designate one.

Judgment upon the award rendered by the arbitrators may be entered by any court having jurisdiction thereof. The place of mediation and arbitration shall be Denver, Colorado.

Any dispute arising between the Parties under this Agreement, even if not litigated, and including any arbitration, notwithstanding any AAA rule to the contrary, shall entitle the substantially prevailing Party to their actual fees and costs, including attorneys' fees and costs, payable by the other Party.
Assignment. Nothing contained in this Agreement shall permit Client to authorize its own clients, agents, representatives or third parties to assign any rights in the Licenses, Subscriptions, Services or any other right relating to this Agreement without the prior written consent of the Mago:Tech. Mago:Tech may freely assign this Agreement.
Manner of Giving Notice. Except as otherwise specified in this Agreement, all notices, permissions and approvals hereunder shall be in writing. Notice to US shall be deemed to have been given upon: (i) personal delivery, (ii) the second business day after certified mailing, (iii) the second business day after sending by confirmed facsimile. Notice by certified mailing shall be addressed to Mago:Tech, 372 Pin Cushion Tr, Burleson, TX 76028. Notice to You shall be addressed to the address or electronic mail address designated by You for Your relevant Services account, or to the relevant billing contact designated by You.
Relationship of the Parties. This Agreement does not create a partnership, franchise, joint venture, agency, fiduciary or employment relationship between the Parties.
No Third-Party Beneficiaries. There are no third-party beneficiaries to this Agreement.
Governing Law/Equitable Remedies/Juries. This Agreement will be governed by the laws of the State of Colorado, without reference to its conflicts-of-laws provisions.

The Parties agree that any damages to Us under this Agreement may be of a nature which might not be remedied by monetary damages alone, and that additional equitable remedies shall be permitted to Us, for such damages, without bond. Client expressly waives any rights to equitable remedies and agrees to be bound on the issue of damages by the Limitation of Liability/Limitation of Damages section herein. The Parties hereby waive the right to trial by jury.
Interpretation.

No presumption shall arise owing to one Party having drafted this Agreement.

Titles and captions herein are for courtesy only and are not a part of this Agreement, nor shall they have any interpretive weight in any dispute regarding this Agreement.

Unilateral provisions have been bargained for and shall not be construed as operating bilaterally. In the event any Schedule, Exhibit or Appendix hereto conflicts with the terms of this Agreement, the terms of the latter shall govern and control.
Binding Effect.

This Agreement shall inure to the benefit of, and be binding upon, the Parties hereto and their respective successors, assigns, executors, administrators, and nominees.
Survival.

Paragraphs 1,5,6,7,9,11 through 30 inclusive, 32 through 36 inclusive, and 38 through 44 inclusive, shall survive the termination of this agreement and remain in full force, as shall all terms of this Agreement which impliedly so survive.

Entire Agreement/Competence/Representation. This Agreement contains the complete agreement of the Parties and will supersede any and all other agreements, understandings and representations by and between the Parties hereto, written or verbal.

The Parties affirm that they are sophisticated, that this is a fully-integrated agreement, that it is not a contract of adhesion, that it was freely negotiated for value, that no parol evidence shall be admissible or useable for any purpose in any dispute arising under this Agreement, and that each has either had advice of legal counsel regarding the propriety of entering into this Agreement, or has ample time to attain such counsel and has freely elected to proceed without it.
SERVICE FEE SCHEDULE
One Year (Includes Sample Contract Templates): $419.40
Six Months: $249.95
One Month: $44.95
WARNING: THIS CONTAINS A LIMITATION OF LIABILITY. SIGNING THIS AGREEMENT MODIFIES AND LIMITS YOUR LEGAL RIGHTS. ALWAYS CONSULT WITH AN ATTORNEY BEFORE ENTERING ANY AGREEMENT.